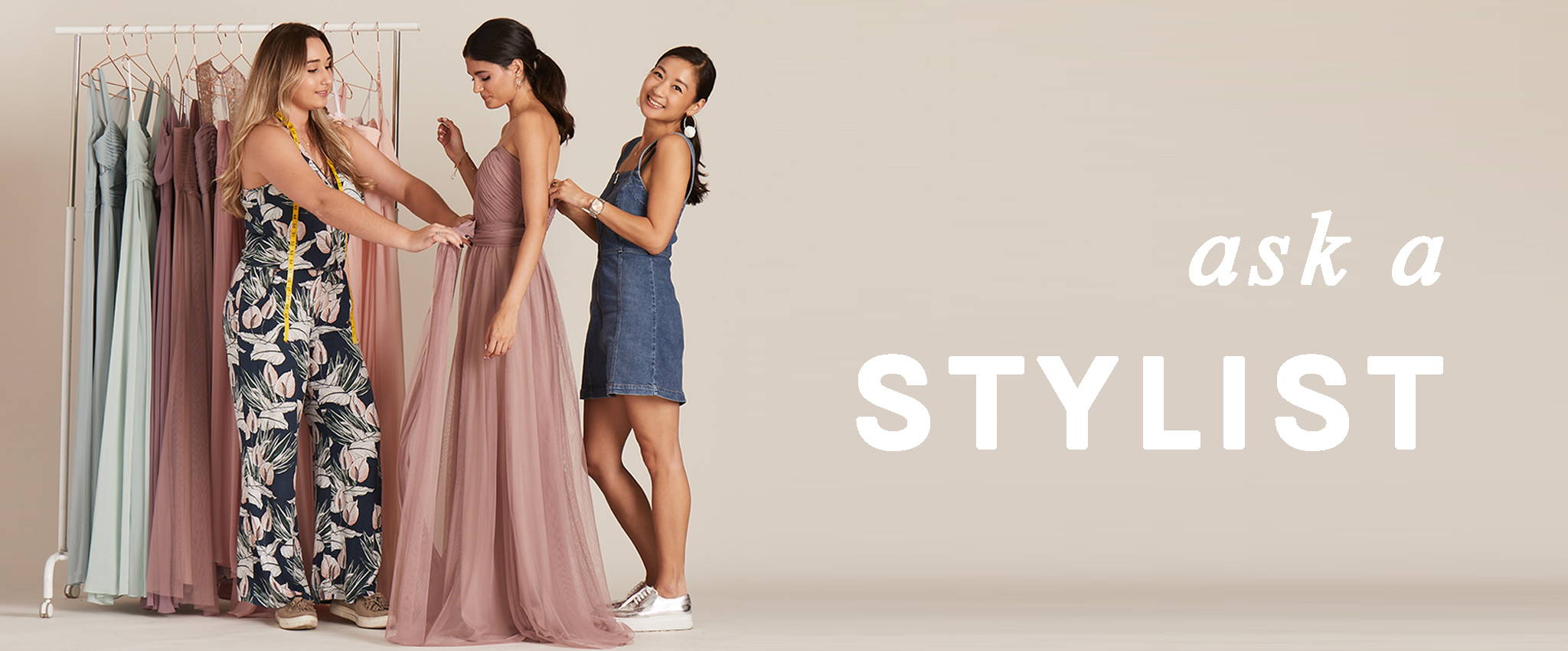 because styling your #bridesquad is kinda our jam.
Feeling overwhelmed or need bridesmaid dress advice? The Birdy Girl Gang is here to help! Hit us up for tips on mix-and-matching, finding flattering fits for everyone in the party or if you just want to bounce around ideas

—we can talk dresses for days. (Pinterest boards, totally welcome)



Or, scroll further down for answers to frequently asked styling questions, or search #AskBirdy on Instagram.
THX BIRDY! A stylist will be in touch shortly so stay tuned...
This field is required
This field is required
This field is required
This field is required
This field is required
This field is required
This field is required
answers to frequently asked bridesmaid dress questions
how do i mix-and-match bridesmaid dresses?
The easiest way to mix-and-match bridesmaid dresses is to pick one hero color, and have the girls choose a style in their favorite silhouette. (Our convertible bridesmaid dresses are great for this, btw.) If you want to mix-and-match between colors, choose a shade family (such as neutral pastels or rich jewel tones) and opt for bridesmaid gowns in surrounding hues, which creates a gorgeous ombré effect. Need some inspo? Click here.
what's the difference between christina, chicky and grace convertible dresses?
Fabric! They are all convertible bridesmaid dresses designed with two extra-long front convertible straps, and can be styled in SO MANY different ways. Watch our video tutorials for step-by-step styling instructions. Christina is designed in tulle (dressy and ethereal), Chicky is made in stretch mesh (sleek & sophisticated but super comfy, too), and Grace is spun of airy chiffon (light and daytime-friendly).
can you mix between fabrics?
100%! A mix of fabrics in your bridesmaid lineup adds depth, texture and visual interest. Please note, there may be color variances between fabrics, which is because not all fabrics pick up color dyes in the same way. (For example, our blush pink chiffon is slightly paler in hue than blush pink mesh or tulle.) If maintaining the exact same color is important to you, stick to dresses within the same fabric.
how do i know what size i am?
Break out your measuring tape and watch this video for tips on how to measure for your bridesmaid dress. Some of our gowns fit differently, depending on the style, so be sure to reference the "Size & Fit" section and size charts within the product page for in-depth details & fit tips.
i'm tall. will your dresses be long enough for me?
If you're under 5'9", all of our gowns will fit in length. However, if you're over 5'9", it really depends on the style, as some designs are longer than others. (So be ready to bust out your dressy flats.) You can find length measurements under the "Size & Fit" section on each product page. The length will be consistent in all sizes, XS-3XL. Unfortunately, we do not offer custom lengths at this time. Just FYI, our Jules Dress & Gwennie Dress are the longest in the collection, so if you're tall, you might want to consider these, babe.
i've got a baby on the way and/or just gave birth. how do i know if the dress will fit?
First of all, congrats mama bird! You can shop all of our baby bump-friendly maternity bridesmaid dresses here. Also, here's a link with some helpful tips on being a pregnant bridesmaid or how to dress your post-baby bridesmaid bod.
what bridesmaid accessories look best with your dresses?
We believe that "less is more" when it comes to bridesmaid accessories. Think delicate, minimalist jewelry, or neutral metallic shoes that complement (not compete) with the overall look. However, it really depends on the bride's vision for the squad, so be sure to get the OK from her before finalizing your accessories, always. (Trust us on this one!)